Biography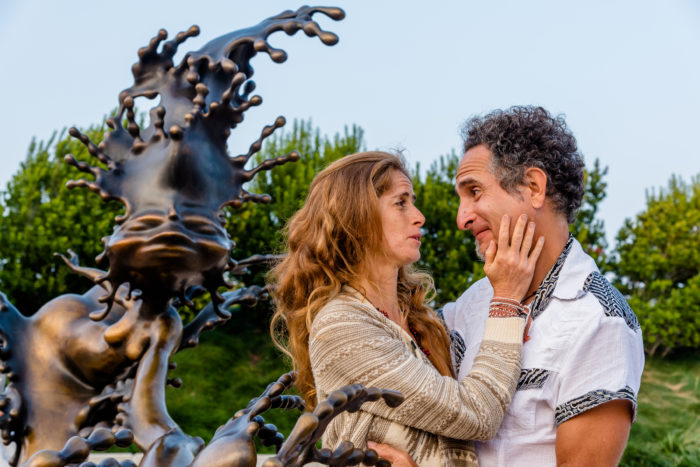 Todji Kurtzman was born in San Francisco California in 1970, and grew up the son of an architect and interior designer in Tiburon CA.  Gisele Domingues Araujo was born in Rio de Janeiro Brazil, the daughter of a school teacher and a Brazilian military parachute jump master in 1978.
Todji met Gisele on a sculpture work trip to Rio de Janiero Brazil in 2009 when the winds of destiny blew him to a very out of the way location in the forest where a friend showed him her front door within fifteen minutes of arriving on a one month trip.  They went on a first date in Peru, driving through the Andes Mountains and motor canoeing deep in the Amazon. They became engaged and Todji moved to Rio de Janeiro where they married in 2010. They moved back to Portland Oregon in 2012 to work as a team producing bronze public sculpture monuments for US cities, corporate collections and private collectors.
Todji's unique sculpting style is known across North America, South America and Asia for his sublime expression, archetypal form, and signature style with perspective.  Gisele's diverse artistic talents in sculpting, mold making, graphic design, dance and arts administration are applied to every project, weaving a collaborative tapestry of co-creation.  Todji and Gisele embrace the best of North and South American culture and wisdom that they have embodied from their extensive travels.
Todji and Gisele's monumental and pedestal sculptures are held in collections in the US, Canada, Mexico, Brazil, Peru, France and Thailand.  Todji and Gisele have also studied Brazilian percussion and played drums with several large Brazilian bands for audiences of up to 40,000 during Carnival in Rio de Janeiro.
Before meeting Gisele, Todji exhibited his sculptures for eight consecutive years at Burning Man, also Art Basel Miami, The New Orleans Jazz Festival, The Sundance Film Festival, many west coast music festivals and annual charity events.  Their work can currently be seen in sculpture parks, public places, and private collections on at least 4 continents.
Todji began sculpting as a child and graduated with a Bachelor's degree in art from the University of California Santa Barbara, and then  studied traditional figurative sculpture at the New York Academy of Art and taught at the Art Institute of Portland.  Following graduation from art school he began a nine year career in the clay animation industry as an intern on the stop-motion animated feature film "James and the Giant Peach."  As a stop motion animator he produced high end animation for ABC, AOL, Disney, ESPN, HBO, FOX, MTV, NBA, UPN, WB, HBO and Saturday Night Live.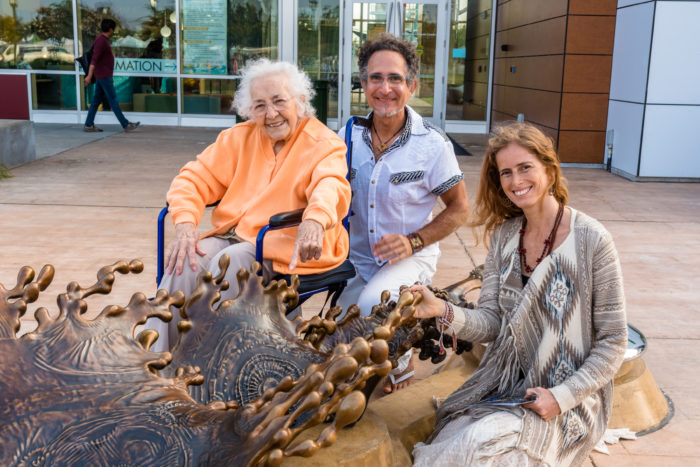 Todji and Gisele speak English, Brazilian Portuguese and Spanish, and they embrace the goodness of the diversity of all humanity in all its colors, faiths, and orientations everywhere.
Thank you for your interest in Todji and Gisele's work.  It is patronage that keeps them working as artists, and for this they are deeply grateful.